After a few days you will be wearing PHALLOSAN forte like a second skin.
The PHALLOSAN forte
Leading through innovation
Study results
After 3 months
After 6 months
Flaccid size increase
1,38" (3,5cm)
1,93" (4,9cm)
Erect size increase
1,5" (3,8cm)
1,89" (4,8cm)
Girth increase
0,55" (1,4cm)
0,98" (2,5cm)
Source: Clinical study PHALLOSAN - Author: Dr. Clemens Tilke
Video - Using PHALLOSAN forte
We have 20 years of experience as the market leader for orthopedic elongation systems with vacuum technique. Our knowledge on efficacy and comfort enabled us to manufacture PHALLOSAN forte. In our opinion the most effective and comfortable one of its kind.
PHALLOSAN forte is worldwide the only patented orthopedic belt system with a new, revolutionary vacuum protector technology - the even faster way to penis enlargement or straightening, helping you to achieve new confidence and an enhanced quality of life.
PHALLOSAN forte also enlarges the glans, as the vacuum encompasses the whole penis. Most other devices start with tension behind the glans. We have 18 years of experience in the production and application of systems for penis enlargement, penis lengthening and/or penis straightening. Years of research and the evaluation of thousands of customer responses have helped us develop and improve the PHALLOSAN forte System. PHALLOSAN forte satisfies all medical requirements and carries the CE symbol to prove it.
There are "stretchers" and there is PHALLOSAN forte. Learn more about how our vacuum protector system with soft power works:
The principle
The penis tissue is stimulated to form new cells by continuous - gentle - stretching. PHALLOSAN forte creates an almost unnoticeable vacuum that acts on the entire penis, starting with the glans. The high degree of comfort of PHALLOSAN forte makes it easy for the user to wear the system for a period of ten hours without any inconvenience at all - the main prerequisite for success! PHALLOSAN forte spares you the embarrassment - our system can never fall out of your pants like others.
The use of PHALLOSAN forte is painless if used correctly. PHALLOSAN forte can also be worn at night, as the system on the penis shaft can adjust at any time to a possible erection. It does not impede blood circulation. There is no risk of injury, as with other systems.

Simply a safe alternative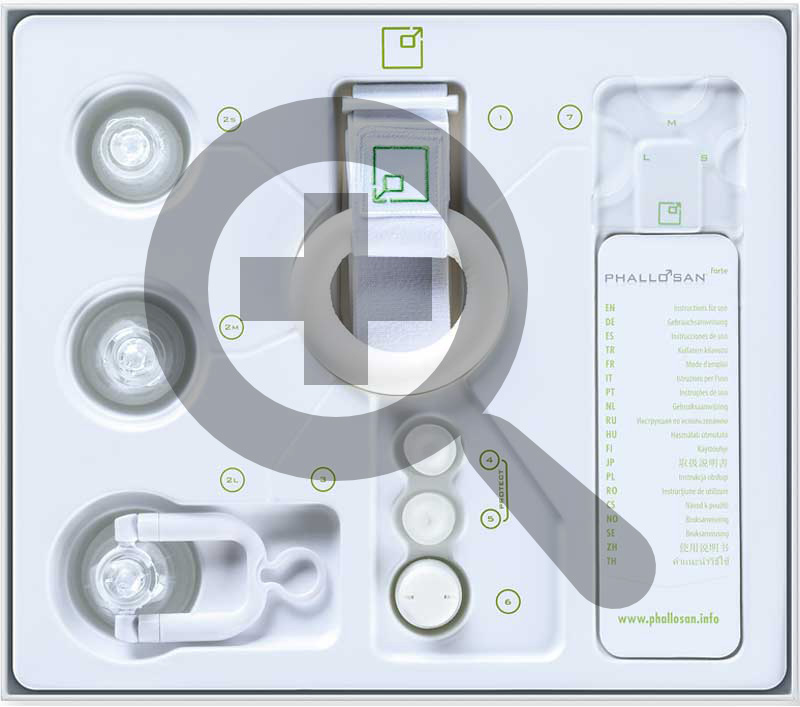 PHALLOSAN forte carries the CE symbol and conforms to EC Council Directive 93/42/EEC. In addition it satisfies Standards EN 980, EN ISO 14971 and EN ISO 10993-1. It is manufactured according to the medical requirements of European health authorities. The materials required for manufacture are well tolerated and have been tested for biocompatibility. The textile stretch belt for penis enlargement specially developed for PHALLOSAN forte is free of formaldehyde. The sleeves used are allergen- and latex-free. The counter support on the textile stretch belt is made of selected medical foam silicone.
Natural and painless application
The device can be worn painlessly for up to 12 hours every day or night, with the corresponding results. The vacuum (negative pressure) in the suction bell prevents the glans from slipping out, while causing it to grow considerably. The belt tension is infinitely adjustable.
The components are easy to clean. Detailed and illustrated instructions for use are enclosed. All parts of the belt can be ordered individually. Velcro fasteners make replacement easy and comfortable.
The newly developed protector cap protects the glans and foreskin from swelling and redness if the suction is too strong. It exerts a slight pressure on the surface tissue, like a compression stocking, or the pressurized suit of a jet pilot. The tension can now be increased, and success can be achieved even more quickly.
PHALLOSAN forte can increase YOUR penis length by 1.9 inches in just 6 months
This result was clinically tested
Click on the image to read the complete study!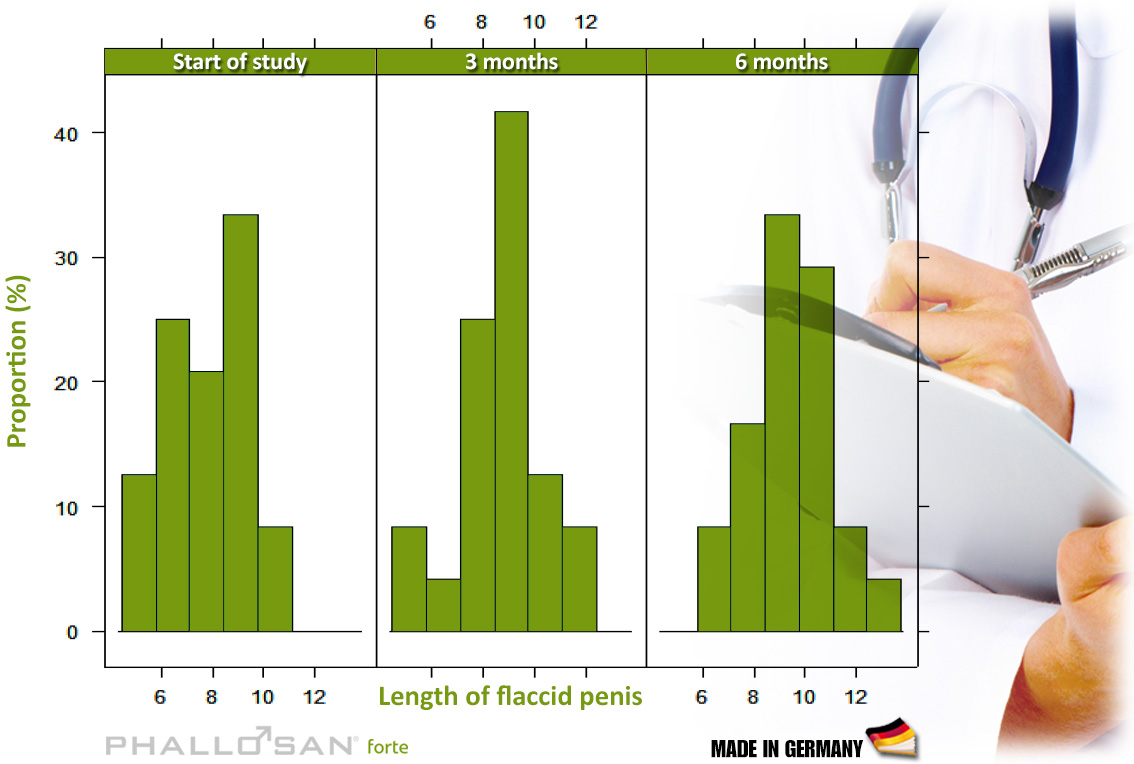 Source:
Clinical study PHALLOSAN - Author: Dr. Clemens Tilke
Possible results of the application can differ from individual to individual and can thus not be guaranteed.
The traction force of PHALLOSAN forte!
How much positive force can PHALLOSAN forte create?